The Model A-1 is a fully-automatic model that will volumetrically fill a variety of powders and granular products like ground spices, seasoning blends, health powders, ground coffee, detergents, chemicals, drink mixes, cake mixes and similar products. Average fill rate is 30-45 containers a minute.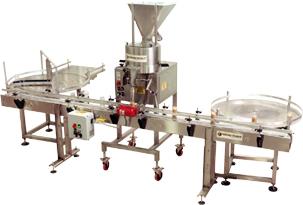 The operator determines the amount of product released from the Model A-1 by simply adjusting a bulk gate and a meter valve. Once the final adjustment is made, the Model A will provide a consistent volume of product for quick and accurate filling. The A-1 will automatically index and fill jars, trays, bottles or other rigid containers.
For customers who want to fill into bags the Model A-1 can have a frame to fit over the bagger and controls that offer a smooth interface.
The Model A-1 will dispense from 1 oz. up to about 16 oz. per second depending on product density and flow characteristics. A counter is provided to allow for multiple revolutions for bigger package weights. Fill rates are effected by package weight, product density, flow characteristics, container opening and product settling time. We invite you to send samples of your product for testing.
Additional Model A Scales Below: