The Model A is a semi-automatic model that will volumetrically fill a variety of powders and granular products like ground spices, seasoning blends, health powders, ground coffee, detergents, chemicals, drink mixes, cake mixes and similar products.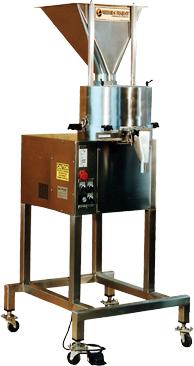 The operator determines the amount of product released from the Model A by simply adjusting a bulk gate and a meter valve. Once the final adjustment is made, the Model A will provide a consistent volume of product for quick and accurate filling. The operator hand places a bag, jar or other type of container and activates the fill cycle by pressing a footswitch.
The Model A is available in a tabletop model or with a stainless steel support stand with leveling feet.
This design puts negligible friction on the product, contains dust and no change parts are needed when changing package weights.
The Model A will dispense from 1 oz. up to about 16 oz. per revolution, per second depending on product density and flow characteristics. A counter is provided to allow for multiple revolutions for bigger package weights. Rates are effected by package weight, product density, flow characteristics and operator skill.
Additional Model A Semi-Automatic Models: